DELTA AT WORK PROJECT
Updating professional skills has been a recurrent theme in the last decade for many international organisations and institutions. The definitive implementation of robotisation, digitalisation and artificial intelligence has
made experts reflect on the skills needed by professionals in a work context where machines and computers do much of the work, including high-precision work. In this line, the WEF published in 2016 the report "The Future of Jobs. Employment, Skills and Workforce Strategy for the Fourth Industrial Revolution", and updated it in 2018 with "Centre for the new Economy and Society" depicting and preparing new scenarios for the future of work. The first report stated that "social skills will be in higher demand across industries than narrow technical skills, which will need to be supplemented with strong social and collaboration skills". Two years later, the prediction for the basic skills demanded by 2025 reinforced the position of soft skills such as analytical and critical thinking, creativity, initiative, leadership or social influence.

This inspires a firm proposal of reskilling pathways for human capital in disrupted industries and jobs to migrate to growing jobs or industries, collaborating with a wide range of data providers, to offer a realistic and specific view of reskilling and upskilling opportunities. The challenge is clear: in the new scenario that is emerging (and more importantly, will continue to emerge in the coming decades) technical skills are necessary; but at the same time human skills will be essential. And the problem is that so far they have not been given sufficient importance. In this line, in 2021 Global management consulting firm McKinsey conducted a survey in 15 countries, including the EU. That report was accepted and published by the WEF, because it confirms the trends previously set out in its own reports. The research identified a set of 4 big areas that will benefit all citizens and showed that higher proficiency in them is already associated with a higher likelihood of employment, higher incomes, and job satisfaction. Those areas are:
• Cognitive
• Interpersonal
• Self-leadership
• Digital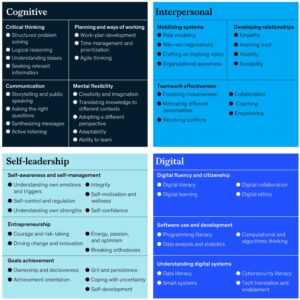 The target group is clearly defined within the parameters that the European Commission defines as VET, both in its Initial-VET concept or C-VET (Continuous Vocational and Educational Training), aimed at young people recently entering the labour market or working professionals who need to improve and update their skills in order to consolidate their working conditions. The project should be carried out in a transnational cooperation to enable cross-country learning not only between project partners but also between target groups. Training, upskilling and reskilling is a global and European challenge in this changing world, and both workers and managers must be ready to face it because they have to learn and transfer those new skills.


Partners
-HeurekaNet – Freies Institut für Bildung, Forschung und Innovation e.V. – Germany
-I AND F EDUCATION AND DEVELOPMENT – Ireland
-VIESOJI ISTAIGA BALTIJOS EDUKACINIU TECHNOLOGIJU INSTITUTAS – Lithuania V
-INSTITUTE OF ECONOMICS OF THE LATVIAN ACADEMY OF SCIENCES – Latvia
-INDEPCIE SCA – Spain
-STOWARZYSZENIE ARID – Poland
For further information please visit: https://delta-at-work.eu/